With our next home league fixture due to take place on Boxing Day, tomorrow is the last opportunity to purchase from our full range of Hamlet goodies on a match day before Christmas.
Replica shirts and calendars on sale tomorrow
Our now traditional club calendar is now in stock priced just £6. Many thanks to Duncan Palmer (@photodunc) and Jon Paradiso for their assistance in getting this produced.
In addition to the calendars, we have now also taken delivery of our latest batch of both adult and children replica shirts. Priced £35 adults and £30 children, both home and away, will be on sale at the mega-container tomorrow and shortly online.
Stocking Fillers
We also have a wide range of Dulwich Hamlet inspired gifts, which are priced at £15 or under. This includes books, mugs, woolly hats, caps, tote bags, patches, badges, socks, gloves and scarves. All these items and much more, can be found in our blue and very bright pink painted Mega-container. Tomorrow, the shop will be open from 2pm, at half time and after the game.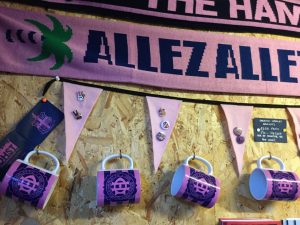 Thank you
It has been another incredible year of sales and we would like to thank all fans who continue to purchase from the club shop, operated by the Supporters' Trust, and we look forward to continuing to offer you great Dulwich Hamlet merchandise for many years to come. Don't forget that we pass on a percentage of all profits onto the Club, so the more you buy the more money the club receives.
If you cannot make it to the shop, do check out our online shop. Please note that the last order date for Christmas delivery is midnight Thursday 13th December. Any orders placed after this date will not be processed in time for Christmas and postal orders will resume from Wednesday 2nd January.
Christmas Party
There will be a final opportunity to pick up some last minute items at this year's Christmas Party. The Trust will be once again hosting the event and it will be taking place on Thursday 20th December. We, as we sure you all are, are delighted to confirm that it will be held in the club bar at Champion Hill. Entry On the night will be £3 and there will be, as usual, DJs, an auction, raffle and musical bingo (one free bingo card will be included in your entry price) and buffet!